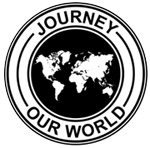 Our journey to the Maldives started from Edinburgh, Scotland.  We were on our way back to Sydney and thought we would spend a few days in paradise enroute home.  I only wish we had spent more time in this idyllic part of the world.  We departed at 0830 and arrived in Doha at 1730 flying Qatar Airlines business class.  Qatar have a fantastic product, great service, plenty of decent food & drink to choose from and a comfy bed should you wish to sleep.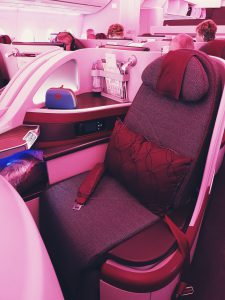 The connection through Doha was long, we had 8 hours between flights.  Clearing customs in Doha on arrival was tedious.  Queues were short but it was chaotic and took a very long time to get through (almost 90 minutes).  Next time I would not use the "family" line as it took much longer than the regular queues and the airport staff were not fussed that young children feel grumpy and tired when waiting for a long time.  The service was far from welcoming or happy. 
We checked into a city hotel for some downtime, dinner and showers.  Back out to the airport at midnight for our 0200 flight a little worried it would take another 90 minutes to get through customs.  However, leaving was quick and simple as Doha airport offers a great service for premium travelers departing Doha.  If you are travelling business or first class, you can check in, in a separate wing of the airport terminal.  It was very efficient and included its own customs processing.  Took about 15 minutes from arriving to the airport to being inside the business class lounge and the service was friendly, helpful and happy.  A huge difference to our arrival.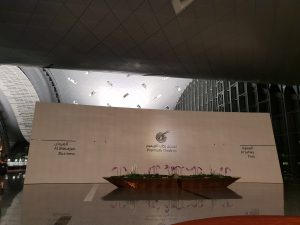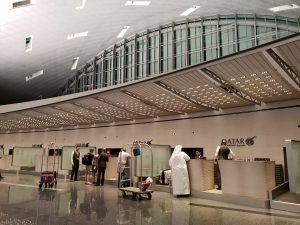 Doha to Male, Maldives takes 4 hours 37 minutes.  It was 0200 in the morning at takeoff.  A "red eye" flight is where travelling business or first class can really make a big difference to how you feel on arrival.  To be able to stretch out and have a deep sleep on a plane absolutely helps to minimize jetlag.
On arrival in Male we were met by a representative of Niyama Private Islands.  They were incredible and efficient, especially as we had had a hiccup on our flight and needed some medical attention on arrival to Male.  The team collected our luggage and cleared us through immigration whilst my little boy was attended to by the medics at the airport clinic.  Thankfully it was nothing serious and we were able to continue our journey.  Niyama take you from the airport by a luxury air-conditioned minivan to their lounge to await your seaplane connection.  The lounge overlooks the seaplane terminal (aka turquoise water), has showers, food, drinks and a kid's play area.  A lovely experience.  It was exciting to see the seaplanes lined up in a row waiting to take us to paradise.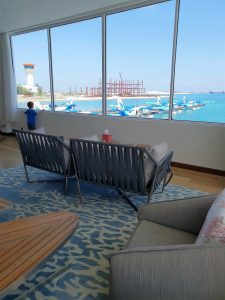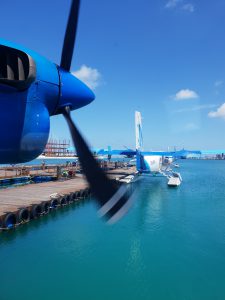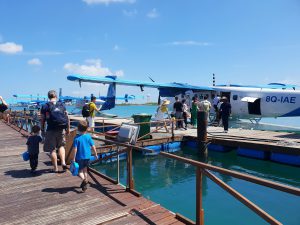 The seaplane journey took 45 minutes and was absolutely brilliant.  Incredibly in all of my travel years, this was my first visit to the Maldives and the reality of the experience and the views blew my expectations out of the water. Stunning with a capital S. You really feel like you are being whisked away from the world, to the middle of no-where.  Island upon island, atoll upon atoll, sparkling turquoise water everywhere, for miles.  It was beautiful.  My kids love flying in general, and the smiles on their faces on this flight were particularly exhilarating.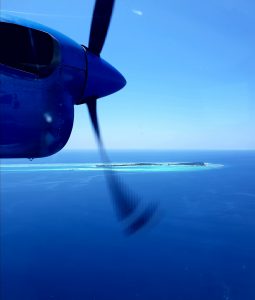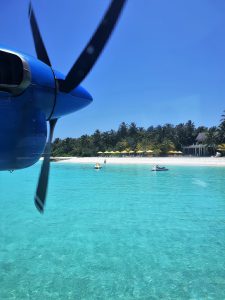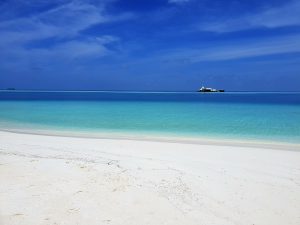 Our pilot gently glided our seaplane to land and here we were, at Niyama Private Islands.  Our home for the next 5 days.  It was so much more than I imagined, a stunning paradise doesn't quite do it justice. We had a beautiful welcome on the jetty from the team at Niyama, including the GM Haf who likes to greet all guests on arrival and this truly makes one feel welcome.  It is great to see this level of interaction with guests.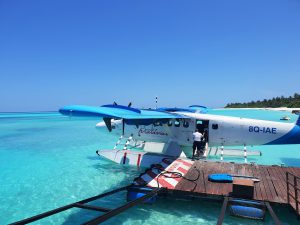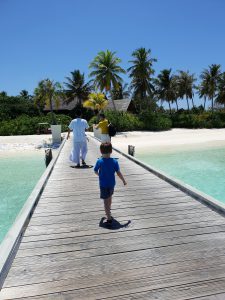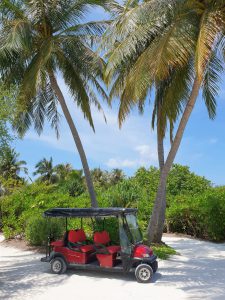 Each guest is assigned a Thakuru (butler) who looks after their stay.  Your Thakuru shows you around the islands on arrival.  They can help book day trips, babysitting, restaurant tables, arrange bicycles.  Basically any request you have during your stay, they are there for you.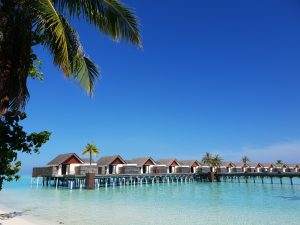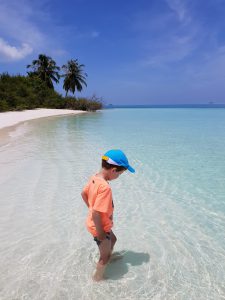 Our beach bure with pool was just gorgeous.  Very comfortable with a relaxing and picturesque ambience.  It was very easy to laze away the days here.  There are many room types, including beach and overwater, all different sizes and budgets to suit.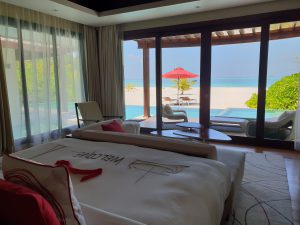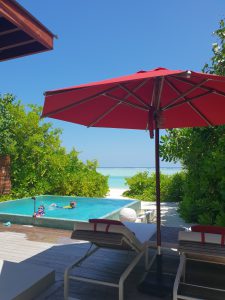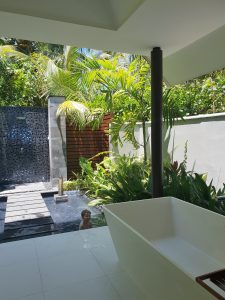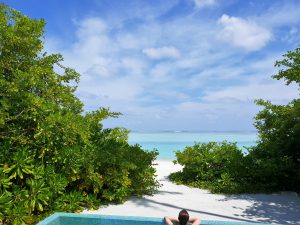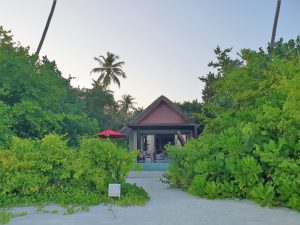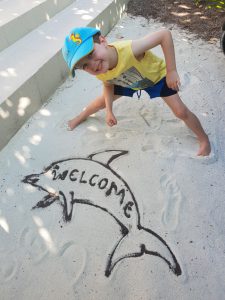 We just loved the coconut man, who had a special knack of appearing with fresh coconuts just as we thought about one.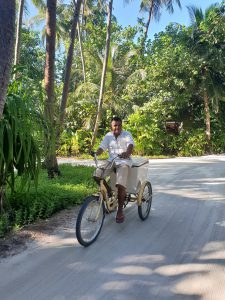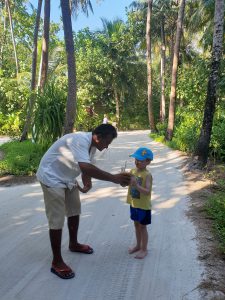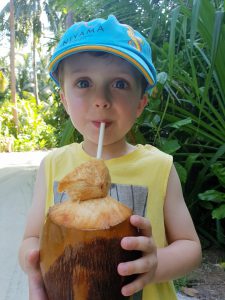 There are 6 restaurants at Niyama.  This is quite unique for the Maldives.  We tried every option and our favourite was Tribal, followed by Nest.  Tribal offers an African/South American setting/cuisine and every single member of their team was delightful.  It was fascinating to hear about their home country (most were from Kenya) and how their journey came to be working at Niyama.  It will be a dinner I remember very fondly of our time on Niyama.  Nest has a fabulous setting, you ascend many steps till you are high in the tree tops, incredible.  Very tasty Asian cuisine. Again, the team here were a highlight.  Friendly, happy service in beautiful ambient surrounds.  A very pleasant, enjoyable evening.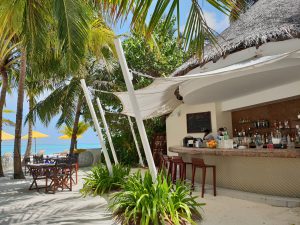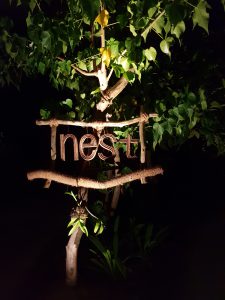 Breakfast is buffet style near the main pool on the beach and the food is excellent.  Varied, lots of choice and everything I tried was delicious, including the champagne!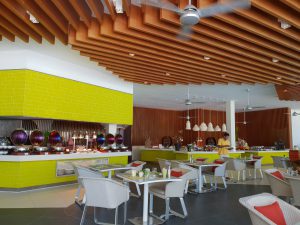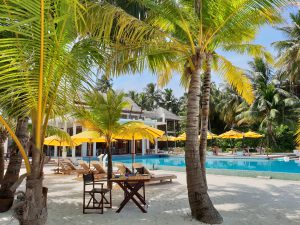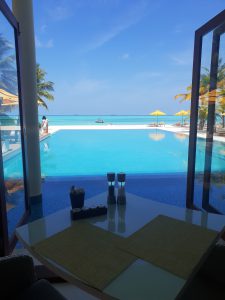 The kids club at Niyama is excellent.  Most of the team are trained nannies from the UK and they are brilliant with all children.  The club is large, with two big indoor rooms and a large playground outside including climbing and a water play area.  There are scheduled activities all day.  The team take the children by buggy to Blu restaurant for lunch each day which the kids really enjoyed. The children are also taken out to do various activities like paddle boarding, flying kites on the beach, treasure hunt, snorkeling trips, kayaking, baking.  Every day is different. 
Kids club is free for 2-12 years and is open 9am-6pm daily (12-24 months are accepted for an hourly fee).  There are some evening sessions each week offered at a small additional cost.  Our kids really enjoyed their time in the club, and we enjoyed some relaxing R&R as a couple, which was much appreciated knowing our boys were safe and happy too.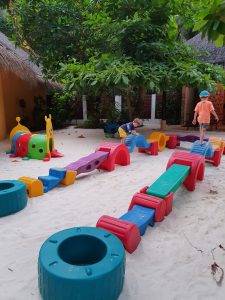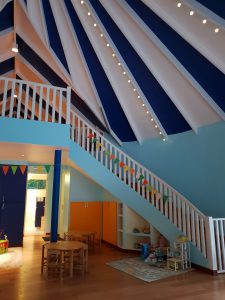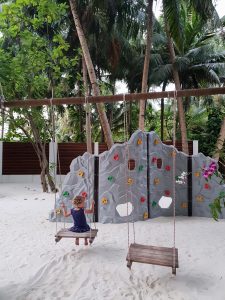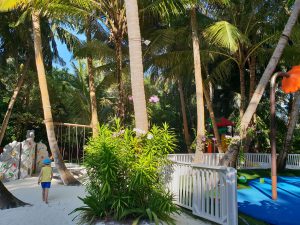 A big highlight for us were the rays that swim close to shore at the various beaches around the island.  My son loved "running with the rays".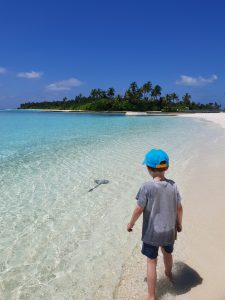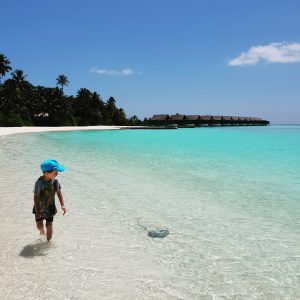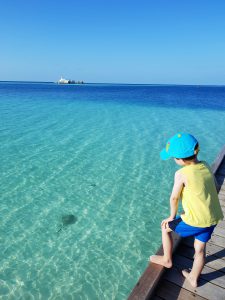 You can snorkel straight off the beach where we saw lots of colourful fish, coral and baby reef sharks.  However there is no house reef at Niyama.  This is something to consider when booking and is the only real experience this property does not tick.  You can take boat trips to see the deep large reef areas for a fee.  I do recommend taking a boat trip out to the deep reef at least once during your stay.  I saw turtles, a huge manta eel, sharks and thousands of fish on the deep reefs.
We took a jet ski trip with our boys to a see dolphin's and a sandbank.  We rode for miles, it was fun and a great way to see the surrounding area, nature and more stunning scenery.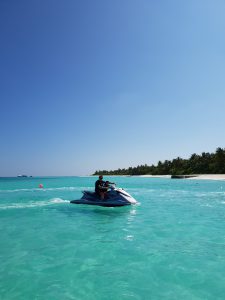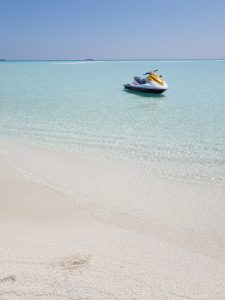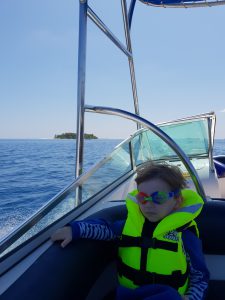 Surfer's will love the added benefit of catching a wave without having to go anywhere other than on your board.  Having their own surf break onsite makes Niyama quite unusual in the Maldives.  Surfshack is the perfect place to catch the amazing sunset whilst sipping a softie or cocktail.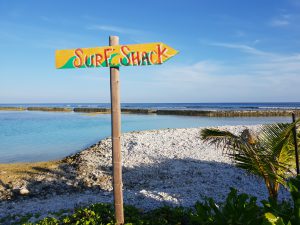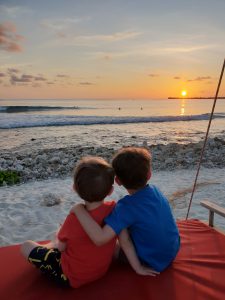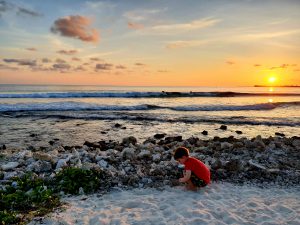 Having two islands joined by a bridge allows Niyama to cater for singles, couples, and families.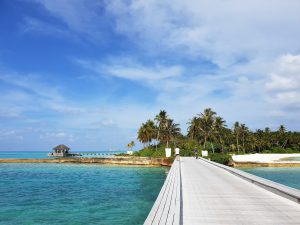 We left via the Domestic Airport, a short speed boat transfer away.  A 40 min flight would connect us to Male for our international flight to Hong Kong.  There was a comfortable lounge where we could relax, there was an amazing sunset over the runway as we boarded the plane however it was not a patch on the intimate and spectacular seaplane experience to / from Male.  I learnt, where possible to ensure my clients international flights arrive and depart during seaplane transfer times to ensure a beautiful start and end to the Maldivian experience.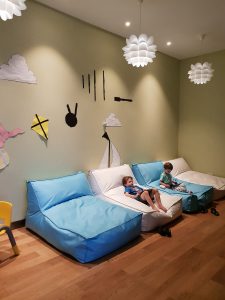 Niyama is a fantastic property for all. 
If you would love to experience your own Maldives experience I would love to help.   Contact:  vicky@journeyourworld.com   
I have special perks included with all bookings and can ensure your stay is tailored to your needs.  The Maldives is addictive.  I cant wait to go back.